Paws Off!! (RIP October 2018)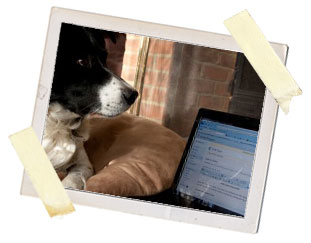 About Me: My name is Jake, I am a four year old black and white Border Collie, my favourite pastimes are playing Frisbee in the garden, sleeping and nice long cuddles.
Sunday 9th January 2011
I had been living with my family for about a year, there was my mum, dad, two children and my older friend Poppy, a tri coloured Welsh Collie, she was a little nervous and didn't like games as much as me.
The doorbell rang, Poppy and I barked as usual letting everyone know someone was there. It was a couple I had never met before but I ran over and greeted them and they gave me lots of fuss. We all went into the kitchen while they talked and I jumped up at everyone in turn it was all very exciting and I was given a lot of attention. My mum then took me out into the garden with the new people and we had a good game of fetch. Mum then got my halti and lead and the new people took me out on a little walk, I like to go fast on my walks and usually they can never keep up with me but these people wanted me to go slow, like them, which I wasn't too happy about but they seemed nice and were very happy with me when I didn't pull. The new people then took me back home and then went away again.
Tuesday 11th January
I hadn't given that couple much thought after they left but it was nearing my bedtime and they were at the door again. Mum talked with them, gave them my bed, bowl and all my belongings and then gave me a cuddle and put my lead on. I thought we were going for a walk again so I was excited and off we went without a second glance at my mum, we got to their car and in I jumped. We were in the car a long time and I got a little car sick but I didn't mind, I like car journeys. When we stopped they took me into their house and I had a good sniff around, remembering my manners I didn't jump on the furniture, they sat down on the sofa and I lay down beside them. I was a little unsure what was going on, they gave me some dinner but I didn't feel like eating it. Soon it was bedtime, they took me out for a sniff around the garden and then left me with my bed on the landing. I was used to being on my own and stayed quiet and went to sleep.

Wednesday 12th January
In the morning the bedroom door opened and I wagged my tail, they took me out for a walk I kept pulling, I wanted to go faster but they kept trying to slow me down. We went back to their house and I lay down in the living room, I was tired after my walk. These new people gave me lots of cuddles and attention, later that day we went out and saw some very large scary things that I was told were ponies, I had to bark lots at them especially when they moved. I told to leave them but I didn't want to, but they didn't gave me a choice. Once I had stopped barking they let me go nearer again but the smaller one moved so I barked again and once again I was made to move away. I stopped barking and they walked me past them again a couple of times. Then we left the giant scary things and went and met three new people, they were very friendly and gave me lots of fuss. I remembered that the new couple never fussed me when I jumped up so I didn't jump up with these people either. We then went back to the house again and by now I was very hungry so I ate all my dinner from the night before. I was beginning to think I wasn't going back home and that these new friendly couple were my new mum and dad.
Friday 14th January
I was settling into life in my new home now, today when we went for a walk I met another Border Collie I was very excited and barked at her and wanted to run over to her. This was the first dog I had seen since my friend and I was told to leave and made to move away from them. Once I had stopped barking and pulling I was allowed to go up to the other dog, she kept backing away from me, her owner fussed me and I jumped up at her as I was so excited to see another dog and to be going out for a walk. We saw a couple of other dogs on the other side of the road when we were out on the walk, I remembered that I wasn't supposed to bark at them and I was a little tired so I didn't bark at them.
Saturday 15th January
My new Mum and Dad give me lots of cuddles, but they don't let me put my paws on them when they are sat on the sofa, they tell me off and stop fussing me or get up. Once I take my paws off them they start fussing me again. Today we were just about to go and see the big scary things again and a little dog came running up behind me, he took me by surprise and we barked and snapped at each other lots. Mum tried to get me to come with her which I did but the other dog followed me, so she let me turn back round to him and he stopped barking and let me sniff him. His owner then came with another little dog who I got to sniff and say hello too and then his owner took them away again, it was very exciting seeing some other dogs.
Sunday 16th January
The ponies or big scary things as I like to call them still need to be barked at but today when I went up to them I snapped at the little one when we were sniffing noses. Mum was not very happy with me but they big scary thing didn't seem to care he stayed by the fence and even followed us when we went to leave.
Monday 17th January
I was allowed to go out without the lead today, I had a good sniff around and we had a great game of Frisbee, when I was called I ran back to them. I really enjoyed myself and had a good sleep on the living room floor afterwards.
Tuesday 18th January
Walks are still a battle, they won't let me pull but they don't go fast enough for me so I keep trying but every time I do they make me turn around and go the other way or make me slow down. They tell me I am a good boy and try and give me ham when I am not pulling but there are too many things going on when we are out for a walk, how can I think about food with all that going on. They make me wait before crossing the road which I am now used too but sometimes on a walk they ask me to sit but there is too much going on to listen to them. However they don't let me carry on walking until I have done it so I am beginning to think it would be quicker just to listen to them and then we can carry on with the walking.
Wednesday 19th January
Today mum asked me to do a down and she put a treat on the floor, told me to wait, which I did and she then told me I could have the treat. She then did the same but each time puting the treat closer and closer to me until she put it on my paws. She was very very impressed with me and I got lots of cuddles for waiting for her to tell me I could have the treat. Don't tell my mum this but my previous owners had already taught me this trick.
Thursday 20th January
The big scary things are not as scary anymore, I didn't bark at them today, mum gave me lots of fuss and tickled my tummy so I think she was happy with me. We watched them for a bit and I they didn't frighten me even when they started to run and jump about.
Friday 4th February
I have now started to be let off lead when there is no one else around, we play lots of Frisbee and I have even been aloud off lead around the ponies. I just ignore them now running to get balls and my Frisbee is much more exciting.
Saturday 5th February
Today I met a very small dog called Tinkerbell, I wanted to go and play with her but my mum said I had to be gentle as she would get frightened as she was only little. Mum would let me sniff her for a moment and then I had to leave her, eventually she was brave enough to lick my ear, she even stole one of my treats! Mum gave me another to make up for it though.
Monday 7th February
Tonight I went to training classes, it was very exciting and there were lots of dogs in the room and so it was very difficult for me to focus on my mum. When the other dogs moved quickly I got a bit over excited and started barking which my mum wasn't too happy about but I had never been in a room with so many dogs before. Eventually once I had started listening to my mum a bit more I got to go back in the car which I was pleased about and jumped straight back in. I think classes are a bit too much excitement for me at the moment mum says we can go back again once I have relaxed more around other dogs.
Tuesday 8th February
Today we had a trip in the car to the park in Marlow, we had a walk up and down the High Street, Mum said I was good for not jumping up at anyone. Then we went into the park and sat on a bench I was excited about being somewhere new and barked at the dogs we saw so mum turned me away from them and made me sit. Then we walked around a little and eventually I stopped barking at every dog we saw.
Wednesday 16th February
We went and played Frisbee on the common today and on the way back some dogs barked from behind their gate. Mum didn't let me go up to them but she said I was a good boy for not barking back.
Thursday 17th February
I am still pulling on the lead but we play some Frisbee before a walk to tire me out a little beforehand. However I have to sit or down before she will throw it and not move until she says OK. Sometimes she even makes me leave the Frisbee she has left on the fence and follow her, I then have to stay laying down while she goes back to throw the Frisbee. However today every time I pulled even a little mum made me turn around and go the other way. It made a short walk last a very long time but I did start to stop pulling and mum said I walked especially well in the direction I didn't want to go in.
Friday 15th April
Well it has been a while since I have written in my diary so I though I would update you with what I have been up to. Last weekend I went on the sponsored walk and my mum tells me they raised over £3000 which is great. I met lots of other dogs and went for a paddle in the lake, it was such a hot day I really needed to cool off. I made a doggie friend and we walked round together as my mum couldn't follow the map and kept getting us lost.
I have made a new friend with one of the dogs my mum walks, we both love running around and chasing my Frisbee together. However although I am faster than him I never seem to get the Frisbee. Mum tells me I am going too fast and end up running past the Frisbee giving my friend the chance to take it back to her first. A couple of times it was a dead heat and both him and I had hold of the Frisbee, but being the polite dog I am I let him have it, I am nearly twice his size so it wouldn't be a fair fight. (I didn't chicken out of a game of tug with him, honest!)
Sunday 8th May
Mum took me to the park in Marlow today, it was very boring she made me sit quietly by her on different benches, gradually getting closer to the other dogs and people walking past. She said I was a good boy for not barking at the other dogs but that I need to learn to sit patiently while other dogs go past, it's just so difficult I want to go and say hello! After we had sat for a while she let me have a little game of Frisbee but the whole time we were there she didn't let me go and see any other dogs. I don't mind if I am playing but when I am not I get so excited when I see another dog I find it so hard to sit quietly. Mum says it is all for my own good because she would like us to go to some agility classes but that we can't do that until I can sit quietly around other dogs (without being distracted by my Frisbee)
Sunday 15th May
Dad took this picture of me and mum a couple of weeks ago on the hill in West Wycombe by the church with the golden ball on top. We all had a picnic up there, but it was a little too hot for me so I went to have a nice lay down in the shade. There are some lovely views up there and lots of other dogs for me to say hello to. Mum said I was a little bit naughty as I had a bark at one of the other dogs up there, but the other dog started it! Oh and mum and dad are very pleased with me because now I can do a twirl without a hand signal
Thursday 2nd June
This evening I learnt a new trick, mum had been trying to get me to do this every now and again but I really wasn't sure what she was trying to do. I would do a down and then lay flat on the floor but after I got confused, well tonight it finally clicked and I learnt how to roll over.
Sunday 17th July
Mum has been taking me to the fun gundog classes, I bark quite a lot at the other dogs if they come too close but I do listen and do what she asks me to do most of the time. I have been learning left and right cone touches and started some whistle work, but I do get a little confused between a recall whistle and the stop one.
Friday 22nd February 2013 – My Final Entry
It has been a long time since I have written my diary so I have decided to write one last entry as it is getting harder and harder to get my paws on mums laptop. I have been here for two very happy years now and for nearly 6 months now I have had a little sister called Poppy. She is a Border Collie with 1/4 Labrador, she will be a year old on 7th March 2013. At first I was a little unsure of her, she was very bouncy but seemed to understand I did not want to play at first. However slowly over time she has won me over and we now play fight together happily. Sometimes, I get a little annoyed at her jumping on me especially if I am resting but mum sees I am getting upset and puts her in the kitchen. We both love chasing the Frisbee and often we tag team, Poppy brings it halfway back to mum and me taking it the rest of the way. Well I will be off now, think I will have a snooze and then maybe mum will take us out for some Frisbee later, Bye Love Jake x